Every month i will be writing on a challenge that I'll put myself into, either it'll be a challenge that would test my strength, ability and/or wits. The month of May would actually be my first dare i put myself to the test. Do comment and tell me what challeng i should do for the up coming months!
I am a sporty person. I am a former Long Distance Runner and does swimming on my free time. Furthering my studies took away what all of us wish we have more of everyday: Time. And as a degree student it did just that.
Exchanging my sleeping hours to complete work and assignments and sacrificing my free time to do sports to attend class, lessons and tutorial. Sadly as it took away my training time in turn it took my health as well.
So in the month of May i decided to take back what was precious to me, my health. so i have to get back to sports or any worth while activities.
To challenge myself, i was wondering what kind of physical challenge would i take upon that's worth to write about. Fortunately a Fitness Challenge ad came across in one of my Whatsapp group chat and a friend of my was asking in the group if anyone was interested to join. coincidentally enough the ad answered my prayers for my May Challenge.
On the last day of May i decided to join Warrior Fitness Challenge by Jom Fit Brunei a Bruneian fitness club open event
I am quite aware it's been awhile I've done any serious physical test so i chose to register myself in the Fun Challenge ($15) and wouldn't mind not having the Tshirt anyway.
Upon telling people that I'll be joining this fitness challenge they were telling me i was crazy on what I'll be putting myself into or i was joking. Not realizing that yes. i am crazy and no i am not joking.
Although i had no proper training to prepare for the fitness challenge but i was mentally and i am still fit enough to try it out.
Where it was.
How it went.
The event starts at 7am and knowing myself, i am not a morning person. I can't even wake up at 8am to go for my 9am classes every morning let alone waking up very early. However, solely for the monthly challenge i had to pull myself out of bed at 6AM and eat a hearty breakfast before the competition.
The Competition has 3 Stages. First Stage was a 45 min of intense full body Piloxing workout then you're through to the second round. They'll give you just a 10 min rest then another Intensive full body Piloxing working. (they were not kidding when they say the workout was intensive because it was). Lastly, the Elimination Survival Stage is where the actual challenge is.
If you were wondering how a Piloxing workout looks like click this link. (Piloxing Workout)
The First Stage was already intensive to begin with, there was high kicks ranging from round house kicks to mixed martial art movement of kick boxing we got to do and explosive reps like burpees and jump squats done throughout the 45mins.
The first "warm-up" stage took some of my energy and made me wonder how am i going to survive the next two stages let alone the first stage itself.
eventually i pulled through thanks to sheer motivation on wanting to do this challenge and to a breathing technique i've learn in my past endurance training to know how to conserve energy while doing the excessive.
Stage Two was where the challenge and self-doubt personally stats to kick in. At this point my body was telling to me i should stop and was convincing my mind i was going to fail if i go any further.
NO i said to my self and immediately thought of the verse Matthew 26:41 "The spirit is willing, but the flesh is weak."
Despite of not having a muscular body like the other competitors but i utilise what i have that never failed me before, my runner's legs, my lungs of endurance and my disciplined mind.
From experience i've done many great things from climbing walls to running countless laps and how i was able to do it was believing in the "Mind over Matter" philosophy and it has never failed me to do my best performance.
Fortunately i went through the second stage without collapsing and overcome my body's aching complaints.
The final Challenge: Survival Challenge was the height of the whole event. Every player were given a scorecard with reps and run a lap between each reps we have to complete orderly.
50 Burpees, 50 Squats, 30 Push ups, 30 Mountain Climbers & 4 laps
I had a good start on being the first 20 players on completing the first rep: 50 Burpees but climbing the stairs was another story. One of the coaches debriefed us that we'll experience "Jelly legs" when we're on the second stair run.
Correction: because of doing 50 power burpees going up the stair walking i felt like my whole body was made of jelly melting on a hot Bruneian weather on the first lap instead of the second.
Thanks to my Track & Field training experience in the past after the Jelly experience the upcoming reps was easier than i expected and the lap were manageable.
Sandbag Burpees, Single Arm Dumbell Shoulder press, Kettlebell Swing
the last 3 reps was a different game change for me, it was more of a Cross Fit based reps that of a runners reps which i was not familiar with. Nevertheless i have to go through it to complete the Survival Stage.
Unlike the first 4, you no longer need to run laps after each reps. However the last 3 reps, i have to do as many i could in 1 min in each rep.
Sandbag Burpees. Similar to the basic burpees but with an additional weight of 20kg of sandbags you had to carry above your head with both arms fully extended when doing the power jump. if my arms weren't properly extended or i didn't do it right, it didn't count.
So far i was able to do 8 Sandbag Burpees. Good enough for a person who never done crossfit before.
Single Arm Dumbell Shoulder press. Out of all reps this is personally the hardest for me. I may have the legs and lower body strength but my upper body strength lacks. With 10kg of dumbbells in each arms. i have to put it up above my head with both arms full extension.
For most of the 60 seconds i was laughing throughout and constantly giggling because i can't do it but tried my best in this reps and only got 2 Shoulder press down.
Kettlebell Swing. Finally a Cross Fit rep i can do with confidence. so far i was able to do 30 kettlebell swing which went better than i expected.
If you want  to see a glimpse of the challenge especially me doing the Kettlebell swing go to this link here
Finally i completed all stages of the Warrior Fitness Challenge.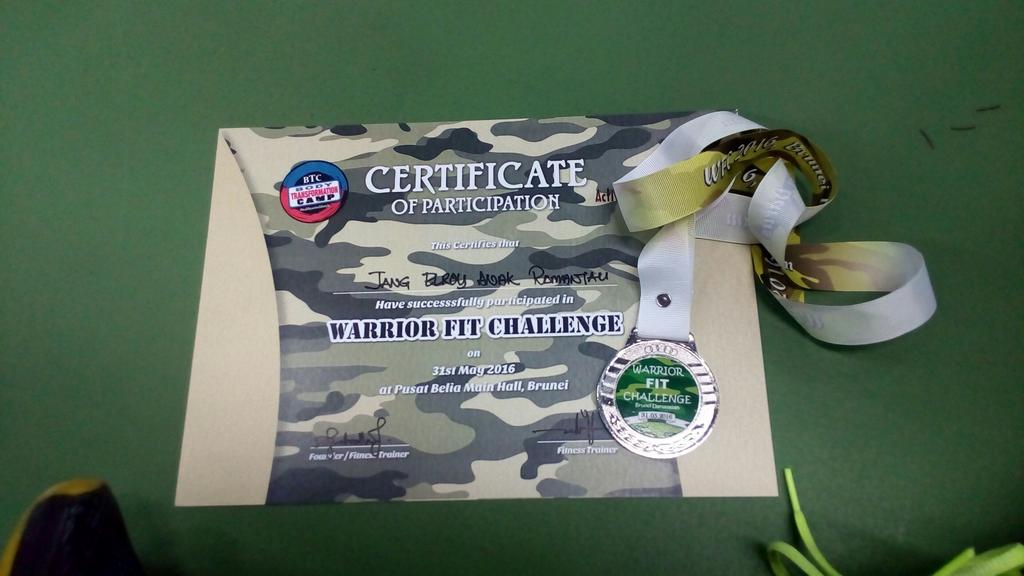 Lessons learn
Out of my busy schedule i was glad i went through the Warrior challenge in one piece, it was a great stress reliever from exams and assignments and get away from my hectic time schedule.
I would say this is a great achievement for myself however the greatest achievement i was very proud of that day was not completing the challenge per say but i most proud of was that i was able to wake up and get up in 6am in the morning. Now that's an achievement that worth to note on.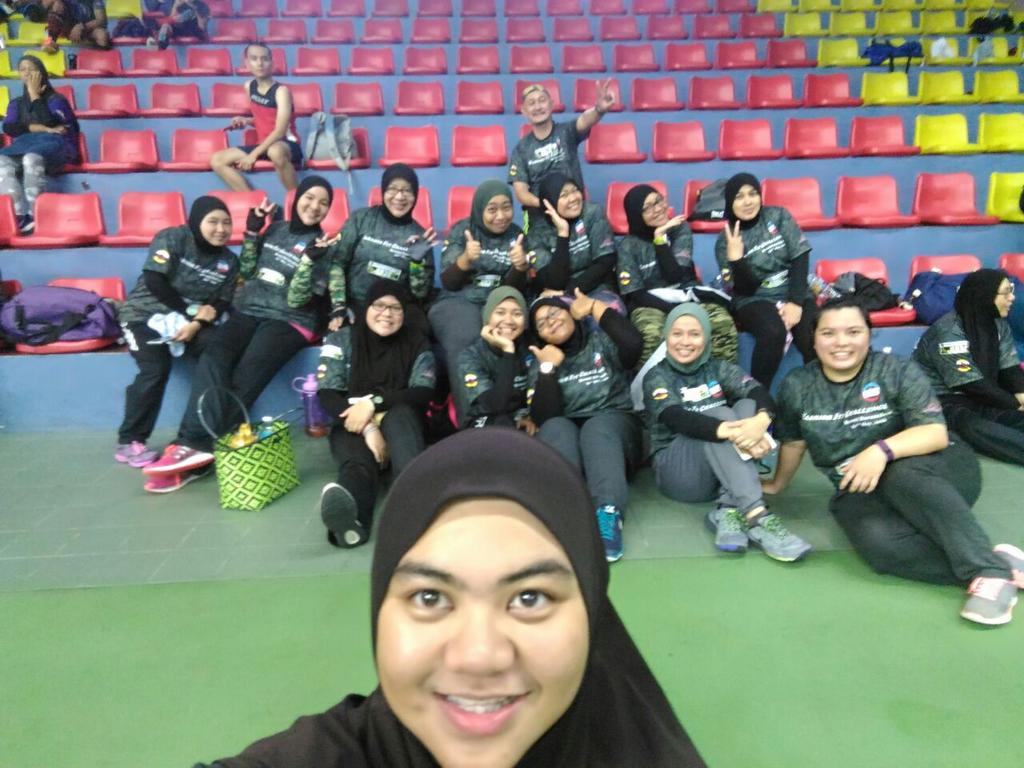 for futher pictures do look it up here in this link